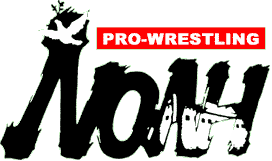 NOAH "AUTUMN NAVIGATION 2009", 15.10.2009 (G+ LIVE)
Tokyo Korakuen Hall
1,800 Fans - (Super No Vacancy)
1. Atsushi Aoki defeated Takashi Okita (7:07) after a Northern Light Bomb Variation.
2. Keith Walker & Delirious defeated Yoshinari Ogawa & Makoto Hashi (8:30) when Walker landed the Walker Bomb on Hashi.
3. Kensuke Sasaki & Takeshi Morishima defeated Akitoshi Saito & Akihiko Ito (4:17) after Morishima used his patented backdrop on Ito.
4. Junior Heavyweight League - Block B: Yoshinobu Kanemaru [0] vs. Genba Hirayanagi [0] outcome was a draw (7:47) due to Hirayanagi holding Kanemaru out of the ring causing a disqualification (count out).
5. Junior Heavyweight League - Block A: KENTA [2] defeated Ricky Marvin [0] (1:19) after a running face kick. This match was quick and aggressive.
6. Takashi Sugiura, Takeshi Rikioh, Mohammed Yone & Shuhei Taniguchi defeated Kenta Kobashi, Jun Akiyama, Akira Taue & Tamon Honda (17:40) when Yone used a diving guillotine legdrop on Honda.
7. Junior Heavyweight League - Block B: Jushin Thunder Liger [2] defeated Taiji Ishimori [0] (13:08) with a brainbuster.
8. Junior Heavyweight League - Block A: Kotaro Suzuki [1] vs. Katsuhiko Nakajima [1] went to a draw, after the time limit expired. (30:00

NOAH "AUTUMN NAVIGATION 2009", 17.10.2009
Sendai Industrial Exhibition Mansion Aztec Museum
750 Fans - (No Vacancy)
1. Akira Taue defeated Kentaro Shiga (7:32) after using an inside cradle.
2. Keith Walker & Jushin Thunder Liger defeated Yoshinari Ogawa & Ricky Marvin (16:01) after Walker landed the Walker Bomb on Marvin.
3. Shuhei Taniguchi defeated Genba Hirayanagi (9:55) after using a modified German suplex hold.
4. Akitoshi Saito, Takashi Sugiura, KENTA & Akihiko Ito defeated Takeshi Rikioh, Mohammed Yone, Yoshinobu Kanemaru & Kotaro Suzuki (19:45) after Saito hit the the Sickle Death on Suzuki.
5. Junior Heavyweight League - Block B: Taiji Ishimori [2] defeated Atsushi Aoki [0] (13:54) with the Mexican Roll.
6. Junior Heavyweight League - Block A: Katsuhiko Nakajima [2] defeated Delirious [0] (15:05) after submitting Delirious with an ankle hold.
7. Kenta Kobashi, Jun Akiyama & Tsuyoshi Kikuchi defeated Kensuke Sasaki, Takeshi Morishima & Takashi Okita (22:47) after Kikuchi landed the Fireball Bomb on Okita.

NOAH "AUTUMN NAVIGATION 2009", 18.10.2009
Sendai Industrial Exhibition Mansion Aztec Museum
800 Fans - (No Vacancy)
1. Yoshinari Ogawa & Kentaro Shiga defeated Ricky Marvin & Akihiko Ito (14:18) after Shiga landed the Shiga Shooter on Ito.
2. Jun Akiyama & Atsushi Aoki defeated Katsuhiko Nakajima & Takashi Okita (15:33) after Aoki submitted Okita with a reverse cross-armbreaker.
3. Kensuke Sasaki & Takeshi Morishima defeated Akira Taue & Genba Hirayanagi (10:16) after Sasaki submitted Hirayanagi with the Strange Hold Gamma.
4. Takeshi Rikioh, Mohammed Yone & Kotaro Suzuki defeated Akitoshi Saito, Takashi Sugiura & Shuhei Taniguchi (17:33) after Rikioh landed the Muso on Taniguchi.
5. Junior Heavyweight League - Block A: Delirious [2] defeated KENTA [2] (18:54) after landing the Bizarro Driver.
6. Keith Walker & Jushin Thunder Liger defeated Kenta Kobashi & Tsuyoshi Kikuchi (16:15) after Walker landed the Walker Bomb on Kikuchi.
7.Junior Heavyweight League - Block B: Yoshinobu Kanemaru [2] defeated Taiji Ishimori [2] (15:56) after landing the Touch Out.

- 1st Jr. Heavyweight League Standings

Block A:
1. Katsuhiko Nakajima [3]
2. Delirious [2]
3. KENTA [2]
4. Kotaro Suzuki [1]
5. Ricky Marvin [0]

Block B:
1. Jushin Thunder Liger [2]
2. Yoshinobu Kanemaru [2]
3. Taiji Ishimori [2]
4. Atsushi Aoki [0]
-. Genba Hirayanagi [0]